Time for some mini-reviews! What are mini-reviews, you ask? As the title suggests, these are short reviews, consisting of one paragraph tops, about a book. It's a way to catch up on the books I've read a while ago, but never got around to reviewing.
Unspoken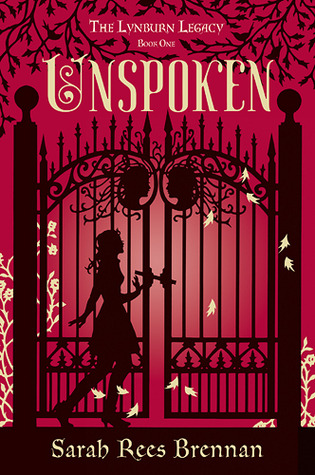 Title: Unspoken
Author: Sarah Rees Brennan
Genre: Urban Fantasy, Paranormal Romance, Young Adult
Rating: 4 stars
Purchase: Amazon
Kami Glass loves someone she's never met . . . a boy she's talked to in her head ever since she was born. She wasn't silent about her imaginary friend during her childhood, and is thus a bit of an outsider in her sleepy English town of Sorry-in-the-Vale. Still, Kami hasn't suffered too much from not fitting in. She has a best friend, runs the school newspaper, and is only occasionally caught talking to herself. Her life is in order, just the way she likes it, despite the voice in her head.

But all that changes when the Lynburns return.

The Lynburn family has owned the spectacular and sinister manor that overlooks Sorry-in-the-Vale for centuries. The mysterious twin sisters who abandoned their ancestral home a generation ago are back, along with their teenage sons, Jared and Ash, one of whom is eerily familiar to Kami. Kami is not one to shy away from the unknown—in fact, she's determined to find answers for all the questions Sorry-in-the-Vale is suddenly posing. Who is responsible for the bloody deeds in the depths of the woods? What is her own mother hiding? And now that her imaginary friend has become a real boy, does she still love him? Does she hate him? Can she trust him?
Review: Kami Glass has always talked to a boy in her mind. This was an unique premise, and the book delivers easily on its unique plot. There was a lot of mystery, and it was rather complicated, which I enjoyed. I'm not sure if everyone is who they're pretending to be, and I love that about a book.
Covet
Title: Covet (The Clann #2)
Author: Melissa Darnell
Genre: Vampires, Witches, Paranormal Romance, Young Adult
Rating: 2 stars
Purchase: Amazon
Dangerous to be together. Painful to be apart.

Savannah Colbert knows she broke up with Tristan Coleman for the right reasons. Most of all, to keep from killing him with her new vampire abilities. But try telling her heart. Now, lost in a sea of hostile Clann faces, Sav tries to come to terms with what she's becoming and what that means for her future. And that someone is doing their best to bully her into making a terrible mistake.

Tristan can't believe Sav won't even talk to him. If being apart is her decision, fine. Just don't expect him to honor it. But even as he prepares to fight for the girl he loves, forces beyond their control take them both in directions neither could have foreseen or prepared for.

A reckoning is coming, and not everyone will survive.
Review: I didn't really like Crave, the first book in the series. I thought most of it was hilariously stupid,  but I decided to give Savannah another shot in this sequel. The book isn't much better than the first one though. The pacing was agonizingly slow, Savannah is ridiculous, whiny, and pathetic. Tristan isn't much better. Not recommended.
The Enchanted Truth
Title: The Enchanted Truth
Author: Kym Petrie
Genre: Short Stories, Fairytales, Young Adult
Rating: 4 stars
Purchase: Amazon
In this humorous and insightful tale, a modern day princess finds herself single and asking for magical intervention to change her sorry love life. Rather than casting a spell to bring Prince Charming to her rescue, a savvy fairy godmother gives the tenderhearted damsel an unexpected gift. By entrusting her true thoughts and desires to an unlikely confidant, the young royal soon discovers that the person who could make her life everything she dreamed it would be has been with her all along.

As author Kym Petrie herself realized, every woman needs a froggy friend and a secret journal—and enough adventures with the girls to keep her heart pounding and her mind racing. Life is meant to be about happy beginnings . . . you can never have enough of them.
Review: A princess asks her grandmother for magical intervention to change her sorry love life. But things don't work out like the princess expected. The tale is short, insightful and humorous. It's inspired by the Frog Prince story. It's funny at times, and a short read, so it's over fast. An enjoyable book for everyone who loves fairytales.