Time for some mini-reviews! What are mini-reviews, you ask? As the title suggests, these are short reviews, consisting of one paragraph tops, about a book. It's a way to catch up on the books I've read a while ago, but never got around to reviewing.
Velveteen
Title: Velveteen
Author: Daniel Marks
Genre: Young Adult, Paranormal, Ghosts
Rating: 4,5 stars
Purchase: Amazon
Velveteen Monroe is dead. At 16, she was kidnapped and murdered by a madman named Bonesaw. But that's not the problem.

The problem is she landed in purgatory. And while it's not a fiery inferno, it's certainly no heaven. It's gray, ashen, and crumbling more and more by the day, and everyone has a job to do. Which doesn't leave Velveteen much time to do anything about what's really on her mind.

Bonesaw.

Velveteen aches to deliver the bloody punishment her killer deserves. And she's figured out just how to do it. She'll haunt him for the rest of his days.

It'll be brutal… and awesome.

But crossing the divide between the living and the dead has devastating consequences. Velveteen's obsessive haunting cracks the foundations of purgatory and jeopardizes her very soul. A risk she's willing to take—except fate has just given her reason to stick around: an unreasonably hot and completely off-limits coworker.

Velveteen can't help herself when it comes to breaking rules… or getting revenge. And she just might be angry enough to take everyone down with her.
Review: What a compelling, creative and refreshing book. After she gets murdered by a serial killer named Bonesaw, Velveteen wants to take revenge on him, and haunt him for the rest of her days. The narrative was simple but compelling either way. The atmosphere was dark, grim and creepy, exactly right.
Confessions of an Angry Girl
Title: Confessions of an Angry Girl
Author: Louise Rozett
Genre: Young Adult, Contemporary, Chicklit
Rating: 4 stars
Purchase: Amazon
Rose Zarelli, self-proclaimed word geek and angry girl, has some confessions to make…

1. I'm livid all the time. Why? My dad died. My mom barely talks. My brother abandoned us. I think I'm allowed to be irate, don't you?

2. I make people furious regularly. Want an example? I kissed Jamie Forta, a badass guy who might be dating a cheerleader. She is now enraged and out for blood. Mine.

3. High school might as well be Mars. My best friend has been replaced by an alien, and I see red all the time. (Mars is red and "seeing red" means being angry—get it?)

Here are some other vocab words that describe my life: Inadequate. Insufferable. Intolerable.

(Don't know what they mean? Look them up yourself.)
Review: Confessions of an Angry Girl is an intriguing read. Rose is an awesome girl, she's a self-proclaimed word geek and angry girl. The story feels very realistic, and the characters act like real teenagers would. It's funny and personal, and a great read.
Quicksilver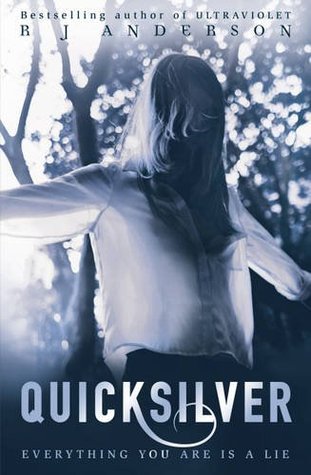 Title: Quicksilver
Author: R.J. Anderson
Genre: Young Adult, Paranormal, Fantasy
Rating: 5 stars
Purchase: Amazon
Back in her hometown, Tori Beaugrand had everything a teenaged girl could want—popularity, money, beauty. But she also had a secret. A secret that could change her life in an instant, or destroy it.

Now she's left everything from her old life behind, including her real name and Alison, the one friend who truly understood her. She can't escape who and what she is. But if she wants to have anything like a normal life, she has to blend in and hide her unusual… talents.

Plans change when the enigmatic Sebastian Faraday reappears and gives Tori some bad news: she hasn't escaped her past. In fact, she's attracted new interest in the form of an obsessed ex-cop turned investigator for a genetics lab.

She has one last shot at getting her enemies off her trail and winning the security and independence she's always longed for. But saving herself will take every ounce of Tori's incredible electronics and engineering skills—and even then, she may need to sacrifice more than she could possibly imagine if she wants to be free.
Review: Quicksilver is one of the best books I've read. R.J. Anderson is an amazing author, and I can barely find the right words to review this book. R.J. Anderson never dissapionts. Quicksilver is intriguing, has enigmatic, charismatic characters, with great writing and a suspenseful plot.