Time for some mini-reviews! What are mini-reviews, you ask? As the title suggests, these are short reviews, consisting of one paragraph tops, about a book. It's a way to catch up on the books I've read a while ago, but never got around to reviewing.
Timepiece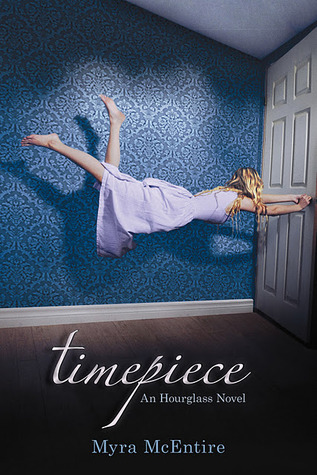 Title: Timepiece (Hourglass #2)
Author: Myra McEntire
Genre: Young Adult, Paranormal Romance, Time Travel
Rating: 4 stars
Purchase: Amazon
A threat from the past could destroy the future. And the clock is ticking…

Kaleb Ballard was never supposed to be able to see ripples – cracks in time. Are his powers expanding, or is something very wrong? Before he can find out, Jonathan landers, the man who tried to murder is father, reappears. Why is he back, and what, or whom, does he want?

In the wake of Landers' return, the Hourglass organization is given an ultimatum. Either they find Jack and the research he's stolen on the people who might carry the time gene, or time will be altered – with devastating results for the people Kaleb loves most.

Now Kaleb, Emerson, Michael, and the other Hourglass recruits have no choice but to use their unusual powers to find Landers. But where do they even start? And when? And even if they succeed, it may not be enough…
Review: I actually preferred Kaleb's POV as opposed to Emerson's POV in the first novel. The story is as original and endaring as in the first book, and the story is full of action, fast-paced and suspenseful. A solid YA read for time travel fans.
Dead Man's Hand
Title: Dead Man's Hand (The Caden Chronicles #1)
Author: Eddie Jones
Genre: Young Adult, Mystery
Rating: 3 stars
Purchase: Amazon
It's All Just a Show…Right? 'This is an authentic old west ghost town, son. Around these parts the dead don't stay dead.' Nick Kindle's vacation at Deadwood Canyon Ghost Town takes a deadly turn toward trouble when the fifteen-year-old finds himself trapped in a livery stable with the infamous outlaw Jesse James. The shooter whirls, aims and… vanishes. Great theatrics, Nick thinks, except now he's alone in the hayloft with the bullet-riddled body of Billy the Kid. And by the time the sheriff arrives, the body disappears. Soon Nick is caught in a deadly chas—from an abandoned gold mine, through forbidden buffalo hunting grounds, and across Rattlesnake Gulch. Around every turn he finds another suspect. Will Nick solve the murder? Will his parents have him committed? Or will the town's infatuation with Hollywood theatrics conceal the real truth about souls, spirits and the destiny that awaits those who die.
Review: When Nick and his family go on a holiday to an old west ghost town, they stumble upon a mystery that put Nick's sleuthing abilities to a real test. I liked the set up of this novel – it was fairly original. Nick's behavior is authnetic to teens, and the murder mystery was complex enough to hold my interest.
My Dead Friend Sarah
Title: My Dead Friend Sarah
Author: Peter Rosch
Genre: Mystery, Thriller
Rating: 4 stars
Purchase: Amazon
Mere months into recovery, Max, an alcoholic with twisted control issues, meets Sarah – the same woman that for years he's habitually dreamt will die after a botched abduction. "Doing the next right thing," a popular AA phrase he's picked up in the rooms, means befriending Sarah long enough to warn her and hope she takes him seriously. But when Sarah falls in love with Max, his newly sober thinking drives him to choose his overly devoted wife, and he abandons Sarah – even when it condemns her to death. When Sarah goes missing, the NYPD suspects Max's dream may have been a pre-crime confession. The truth, all of it, lurks inside of Max, but only by drinking again does he recapture the nerve and clarity vital to free his wife, sponsor, and himself from a life imprisoned by lies.
Review: Reviewers either seemed to love or hate this book – I definitely fall in the "love" category. This book was great, dark, and gritty, and with a lot more substance than I thought at first glance. It wasn't at all what I expected, but it had a few interesting twists and characters. A solid read.