Time for some mini-reviews! What are mini-reviews, you ask? As the title suggests, these are short reviews, consisting of one paragraph tops, about a book. It's a way to catch up on the books I've read a while ago, but never got around to reviewing.
Fractured Lights
Title: Fractured Lights
Author: Rachel McClellan
Genre: Young Adult, Paranormal, Fantasy
Rating: 3 stars
Purchase: Amazon
I'm dying, I thought. This was unexpected and not at all how I envisioned my death. I was supposed to die gardening in a flowerbed as a hundred-year-old woman, not as a seventeen-year-old trapped in a lake beneath inches of ice.

Llona Reese is used to living on the run. After the Vykens killed her parents, she knew they would eventually come for her too. She can't take any chances. But when she starts to make friends for the first time in her life, she gets careless and lets her guard down. Big mistake.

As an Aura, Llona can manipulate light and harness its energy. But if she wants to survive, Llona will have to defy the Auran Council and learn to use her power as a weapon against the Vyken whose sole desire is to take her light. Now she's caught in something even bigger than she can understand, with a power she can't wield, and no one she can trust, except, just maybe, a mysterious stranger.

In this breathtaking and romantic adventure, Rachel McClellan delivers a truly mesmerizing story that will keep you guessing to the very end.
Review: Fractured Lights had a lot of potential, but ultimately it falls short. The characters are okay, and have their own special quirks. Plot is good, original up to some point – I liked the Auras and Vykens. But the writing was 'blah' and needs to be improved.
Touch of Power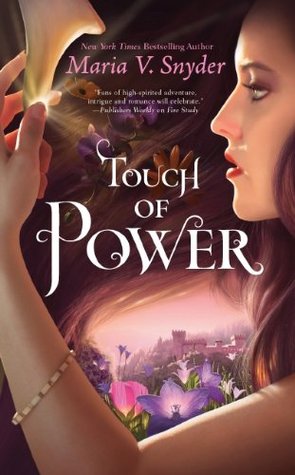 Title: Touch of Power
Author: Maria V. Snyder
Genre: Young Adult, Paranormal, Fantasy
Rating: 4,5 stars
Purchase:Amazon
Laying hands upon the injured and dying, Avry of Kazan assumes their wounds and diseases into herself. But rather than being honoured for her skills, she is hunted. Healers like Avry are accused of spreading the plague that has decimated the Territories, leaving the survivors in a state of chaos.

Stressed and tired from hiding, Avry is abducted by a band of rogues who, shockingly, value her gift above the golden bounty offered for her capture. Their leader an enigmatic captor-protector with powers of his own is unequivocal in his demands: Avry must heal a plague-stricken prince, the leader of a campaign against her people.

As they traverse the daunting Nine Mountains, beset by mercenaries and magical dangers, Avry must decide who is worth healing and what is worth dying for.
Review: Touch of Power reminded me of Graceling. The writing is excellent, the plot is original, the heroine is kick-ass awesome. This is a YA Fantasy the way it should be. The book is amazing, and I'd recommended it to anyone who enjoys YA Fantasy.
 Enter, Night
Title: Enter, Night
Author: Michael Rowe
Genre: Paranormal, Vampires, Horror
Rating: 4 stars
Purchase: Amazon
Welcome to Parr's Landing, Population 1,528… and shrinking. The year is 1972. Widowed Christina Parr, her daughter Morgan, and her brother-in-law Jeremy have returned to the remote northern Ontario mining town of Parr's Landing, the place from which Christina fled before Morgan was born, seeking refuge. Dr. Billy Lightning has also returned in search of answers to the mystery of his father's brutal murder. All will find some version of what they seek – and more. Built on the site of a decimated 17th-century Jesuit mission to the Ojibwa, Parr's Landing is a town with secrets of its own buried in the caves around Bradley Lake. A three-hundred-year-old vampire is slumbering there, calling out to the insane and the murderous for centuries, begging for release – an invitation that has finally been answered. One man is following that voice, cutting a murderous swath across the country, bent on a terrible resurrection of the ancient horror… plunging the town and all its people into an endless night.
Review:  A great debut. If you thought vampires couldn't be scary anymore, then think again, because Michael Rowe shows vampires are definitely terrifying. The small town setting causes an almost claustrophic feeling. The terror creeps up slowly at the start, and then turns into full-on horror.