Time for some mini-reviews! What are mini-reviews, you ask? As the title suggests, these are short reviews, consisting of one paragraph tops, about a book. It's a way to catch up on the books I've read a while ago, but never got around to reviewing.
Angel Burn
Title: Angel Burn
Author: L.A. Weatherly
Genre: Young Adult, Paranormal Romance
Rating: 3,5 stars
Purchase: Amazon
They're out for your soul.
And they don't have heaven in mind…

Willow knows she's different from other girls, and not just because she loves tinkering with cars. Willow has a gift. She can look into the future and know people's dreams and hopes, their sorrows and regrets, just by touching them. She has no idea where this power comes from.
But the assassin, Alex, does. Gorgeous, mysterious Alex knows more about Willow than Willow herself does. He knows that her powers link to dark and dangerous forces and that he's one of the few humans left who can fight them. When Alex finds himself falling in love with his sworn enemy, he discovers that nothing is as it seems; least of all good and evil.
Review: L.A. Weatherly gives a nice twist to the world of angels in this novel, and main character Willow definitely has a spark and attitude. However, the writing itself was mixed at best. At times, I wanted to quit writing, other times I was completely engrossed in the story. The pacing isn't consistent – it picks up, slows down, picks up, slows down. The angel world and lore here intrigued me though, so I may have to pick up the sequel.
Shadows on the Moon
Title: Shadows on the Moon
Author: Zoe Marriott
Genre: Young Adult, Fantasy
Rating: 4 stars
Purchase: Amazon
A powerful tale of magic, love and revenge with a strong female lead set in fairy-tale Japan; this is "Cinderella" meets "Memoirs of a Geisha". Trained in the magical art of shadow-weaving, sixteen-year-old Suzume is able to recreate herself in any form – a fabulous gift for a girl desperate to escape her past. But who is she really? Is she a girl of noble birth living under the tyranny of her mother's new husband, Lord Terayama, or a lowly drudge scraping a living in the ashes of Terayama's kitchens, or Yue, the most beautiful courtesan in the Moonlit Lands? Whatever her true identity, Suzume is destined to capture the heart of a prince – and determined to use his power to destroy Terayama. And nothing will stop her, not even love.
Review: What a divers, creative book. Shadows on the Moon is heavily focused on a fairytale set in a fantasy version of Japan, and the setting is unique and enthralling. Suzume is an enticing main character. She's supposed to be this Cinderall kind of girl, but she's anything but. She's flawed but strong, and has severe anger issues, and struggles with her mother's cold attitude toward her. This book is definitely more intriguing than the regular Cinderella story.
Cinder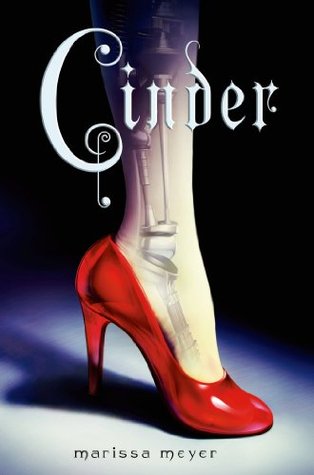 Title: Cinder
Author: Marissa Meyer
Genre: Young Adult, Dystopian, Steampunk
Rating: 5 stars
Purchase: Amazon
Humans and androids crowd the raucous streets of New Beijing. A deadly plague ravages the population. From space, a ruthless lunar people watch, waiting to make their move. No one knows that Earth's fate hinges on one girl.

Cinder, a gifted mechanic, is a cyborg. She's a second-class citizen with a mysterious past, reviled by her stepmother and blamed for her stepsister's illness. But when her life becomes intertwined with the handsome Prince Kai's, she suddenly finds herself at the center of an intergalactic struggle, and a forbidden attraction. Caught between duty and freedom, loyalty and betrayal, she must uncover secrets about her past in order to protect her world's future.
Review: What an amazing read! Cinder is a cyborg in New Beijing, a dystopian world overrun by steampunk creatures. Fairytale meets science-fiction, and it's amazing. The writing is great, Cinder is a wonderful heroine, the book has elements of Sailor Moon (only one of my favorite animes ever) and elements of Cinderella (only one of my favorite fairytales). An excellent read, recommended to anyone who likes young adult.