Time for some mini-reviews! What are mini-reviews, you ask? As the title suggests, these are short reviews, consisting of one paragraph tops, about a book. It's a way to catch up on the books I've read a while ago, but never got around to reviewing.
Moonless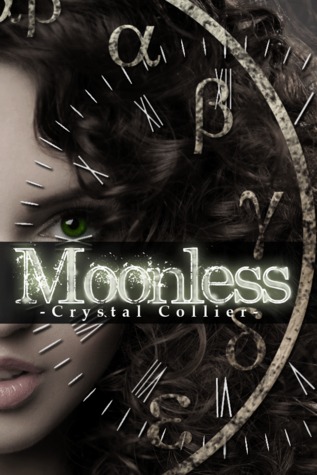 Title: Moonless
Author: Crystal Collier
Genre: Young Adult, Romance, Paranormal, Fantasy
Rating: 3,5 stars
Purchase: Amazon
MOONLESS is Jane Eyre meets Supernatural.

In the English society of 1768 where women are bred to marry, unattractive Alexia, just sixteen, believes she will end up alone. But on the county doorstep of a neighbor's estate, she meets a man straight out of her nightmares, one whose blue eyes threaten to consume her whole world—especially later when she discovers him standing over her murdered host in the middle of the night.

Among the many things to change for her that evening are: her physical appearance—from ghastly to breathtaking, an epidemic of night terrors predicting the future, and the blue-eyed man's unexpected infusion into her life. Not only do his appearances precede tragedies, but they are echoed by the arrival of ravenous, black-robed wraiths on moonless nights.

Unable to decide whether he is one of these monsters or protecting her from them, she uncovers what her father has been concealing: truths about her own identity, about the blue-eyed man, and about love. After an attack close to home, Alexia realizes she cannot keep one foot in her old life and one in this new world. To protect her family she must either be sold into a loveless marriage, or escape with the man of her dreams and risk becoming one of the Soulless.
Review: Jane Eyre meets Supernatural sounds awesome, but unfortunately the plot isn't that strong, and the pacing is too slow. The strong point of the book would be the characters. Alexia and Kiren are amazing, and their romance is one of the best relationships I've read about before.
Courtney Crumrin, Volume 2: The Coven of Mystics
Title: Courtney Crumrin, Volume 2: The Coven of Mystics
Author: Ted Naifeh
Genre: Graphic Novels, Comics, Fantasy
Rating: 4 stars
Purchase: Amazon
Courtney Crumrin is back in a new adventure that pits her against the town's most powerful warlocks and witches, the Coven of Mystics! When the night things of Courtney's community start causing trouble, it's up to the girl to find out why. The coven blames the hobgoblin initially but quickly turns its ire to Skarrow, a night thing in service to the town's most reclusive witch. Uncle Aloysius doesn't believe the disturbances are that easy to explain. His dismissal of the Coven's alleged culprit starts Courtney down a twisted path that leads to the true mastermind behind all the horror! But does Courtney stand a chance against a being that powerful and manipulative?
Review: What a joy to read. The illustrations are great, and Courtney has a sparkling, interesting personality. This book is adorable yet creepy at the same time. I love this series!
The Book Publisher's Toolkit
Title: The Book Publisher's Toolkit
Author: Independent Book Publishers Association
Genre: Non-Fiction, Writing
Rating: 1 star
If you are a self-published author who wants to sell more books, a new publisher looking for ways to market your content without breaking the bank, or a growing publisher searching for the latest tools to take your business to the next level, then "The Book Publishers Toolkit: 10 Practical Pointers for Independent and Self Publishers Volume 1," will bring you the hands-on tools and techniques needed to navigate an industry where the only constant is perpetual change.

Whether you want to jump-start your marketing efforts, expand your social media outreach, get how-to ebook tips and much more, you'll find hands-on tools in these pages. Written by a wide variety of talented professionals who generously donate their time, energy and expertise to IBPA, the not-for-profit Independent Book Publishers Association, each piece originally appeared in the "Independent," IBPA's monthly member magazine.

Publishing industry experts who contributed to this work are Kate Bandos, Kimberley Edwards, Joel Friedlander, Steve Gillen, Abigail Goben, Tanya Hall, Brian Jud, Stacey Miller, Kathleen Welton, and David Wogahn.
Review: The Book Publisher's Toolkit was an okay read, but it didn't teach me anything I didn't know yet. Some tips were interesting, but it didn't offer anything new, but it lacked a comprehensive outline, and a lot of info feels like filler. It's a short read as well, and not really worth buying.