Time for some mini-reviews! What are mini-reviews, you ask? As the title suggests, these are short reviews, consisting of one paragraph tops, about a book. It's a way to catch up on the books I've read a while ago, but never got around to reviewing.
Demonic Dora
Title: Demonic Dora
Author: Claire Chilton
Genre: Young Adult, Fantasy, Romance, Humor
Rating: 2,5 stars
Purchase: Amazon
SHE'S FINALLY MANAGED TO SUMMON HER FIRST DEMON…

Dora Carridine is trying to summon a demon, but she's not very good at Latin and nothing ever works out the way she plans.

Her life is fraught with weekly exorcisms and having to watch her father's fire and brimstone TV show every Sunday. So, when Dora finally succeeds in summoning an incompetent demon lord, she's absolutely delighted when all hell breaks loose.

She thought summoning a sexy demon lord would be the answer to all of her problems, but her problems are only just beginning when her zealot parents try to burn her at the stake, and Dora is left with only one option—to escape and follow her demon straight into Hell.
Review: The book is a little over the top. Some parts were great – like how Dora's parents are totally religious and she rebels against them by participating black magic. But then some parts are totally over the top, like how suddenly the entire town wants to burn her at the stake. Quite pleasant, humorous, the writing is good, but it's just too over the top to be believable.
In The Moors
Title: In The Moors
Author: Nina Milton
Genre: Mystery, Crime, Paranormal, Thriller, Horror
Rating: 4 stars
Purchase: Amazon
Murder in the English countryside

The rain-drenched moors near shamanistic counselor Sabbie Dare's home have become the scene of a chilling crime. When Detective Sergeant Reynard Buckley shows up suggesting her new client, Cliff Houghton—a wounded, broken man—has something to do with the body of a young boy found buried in the moors, Sabbie believes Cliff is being set up. Continuing the therapy she'd begun with Cliff, Sabbie uncovers repressed memories hearkening back to a decades-old string of abductions and murders. But after another boy is abducted, only Sabbie can prove Cliff's innocence . . . and find the real culprit before any more lives are shattered
Review: The shamanic visions add in an extra layer to the mystery. I enjoyed the writing and storytelling. The characters are intriguing, and Sabbie is by far the most interesting of the characters. The suspense is high from start to finish, and the pacing keeps up with the suspence.
Dare You To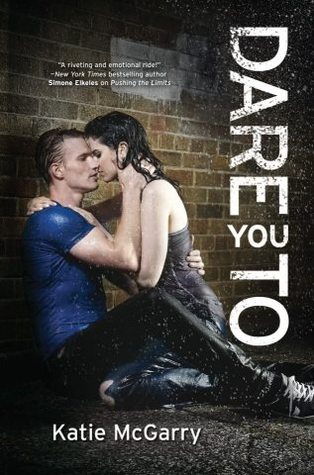 Title: Dare You To
Author: Katie McGarry
Genre: Young Adult Contemporary Romance
Rating: 5 stars
Purchase: Amazon
Ryan lowers his lips to my ear. "Dance with me, Beth."

"No." I whisper the reply. I hate him and I hate myself for wanting him to touch me again….

"I dare you…"

If anyone knew the truth about Beth Risk's home life, they'd send her mother to jail and seventeen-year-old Beth who knows where. So she protects her mom at all costs. Until the day her uncle swoops in and forces Beth to choose between her mom's freedom and her own happiness. That's how Beth finds herself living with an aunt who doesn't want her and going to a school that doesn't understand her. At all. Except for the one guy who shouldn't get her, but does….

Ryan Stone is the town golden boy, a popular baseball star jock-with secrets he can't tell anyone. Not even the friends he shares everything with, including the constant dares to do crazy things. The craziest? Asking out the Skater girl who couldn't be less interested in him.

But what begins as a dare becomes an intense attraction neither Ryan nor Beth expected. Suddenly, the boy with the flawless image risks his dreams-and his life-for the girl he loves, and the girl who won't let anyone get too close is daring herself to want it all….
Review: This book is fantastic! Instead of your typical bad boy case, what we get here is a bad girl and a golden boy, with sparks flying all over the pages. The writing is amazing, the characters are so realistic they could be real people. I love this book, and I can't wait for Katie's next novel.