Time for some mini-reviews! What are mini-reviews, you ask? As the title suggests, these are short reviews, consisting of one paragraph tops, about a book. It's a way to catch up on the books I've read a while ago, but never got around to reviewing.
Dangerous Dream: A Beautiful Creatures Story
Tite: Dangerous Dream: A Beautiful Creatures Story
Author: Kami Garcia, Margaret Stohl
Genre: Paranormal, Young Adult, Fantasy

Rating: 4 stars
Purchase: Amazon

The #1 New York Times bestselling Beautiful Creatures series continues in this brand-new digital-exclusive story.Catch up with Ethan, Lena, and Link as they finally graduate from high school and get ready to leave the small Southern town of Gatlin. But when Dark Caster Ridley makes an appearance, the sometime bad girl can't resist picking a fight with her sometime boyfriend, Link. Angry and rebellious as ever, Ridley ends up alone in New York City and becomes entangled in the dangerous underground Caster club scene, where the stakes are high and losers pay the ultimate price.Where's a Linkubus when you need him?
Review: The best part of this novella is that it featured Ridley and Link. While I couldn't always relate to Lena and Ethan and wasn't fully on the bandwagon promoting their relationship, I've always been a huge fan of Ridley and Link. The book is brief, but it does has a story and plot, and it doesn't fall into some of the tedious, slow-paced writing traps the other books in the series are prone to. If you're a fan of the series, I'd definitely recommend it.
Dangerous Creatures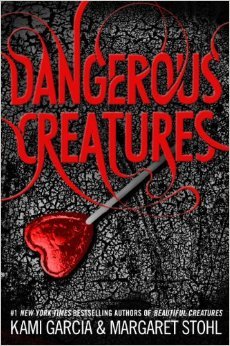 Tite: Dangerous Creatures
Author: Kami Garcia, Margaret Stohl
Genre: Paranormal, Young Adult, Fantasy

Rating: 3 stars
Purchase: Amazon

A new series returns to the world of Beautiful Creatures. Some loves are cursed…others are dangerous.

Ridley Duchannes will be the first to tell you that she's a bad girl. She's Dark. She's a Siren. You can never trust her, or even yourself when she's around. Lucky for her, Wesley "Link" Lincoln can never seem to remember that; quarter Incubus or not, his heart is Mortal when it comes to Ridley. When Link heads to New York City to start a music career, Ridley goes along for the ride-and she has her own reasons. As if leaving small-town Gatlin for the big city, trying to form a band, and surviving life with a partially reformed Siren isn't hard enough already, Link soon learns he has a price on his head that no Caster or Mortal can ever pay.

Kami Garcia and Margaret Stohl, the #1 New York Times bestselling coauthors of Beautiful Creatures, are back and casting another magical spell. Their signature mixture of mystery, suspense, and romance, along with a dash of fun and danger, will pull fans in and leave them begging for more.
Review: After having mixed feelings about the Beautiful Creatures series, I wasn't sure if I should give Dangerous Creatures a shot. But with the focus being on Ridley, who was easily my favorite character from the Beautiful Creatures series, I couldn't get around it, and had to read this. Unfortunately, the book never really delivers on its promise, and the promise we've been expecting since first meeting this unlikely couple in the Beautiful Creatures series. Ridley never quite regains the spark she had in the previous series, Link never redeems himself nor does he become anything more than the insecure boy he is in the first series, and their relationship feels forced. Not what I'd expected or hoped.