Time for some mini-reviews! What are mini-reviews, you ask? As the title suggests, these are short reviews, consisting of one paragraph tops, about a book. It's a way to catch up on the books I've read a while ago, but never got around to reviewing.
The Agony That Remains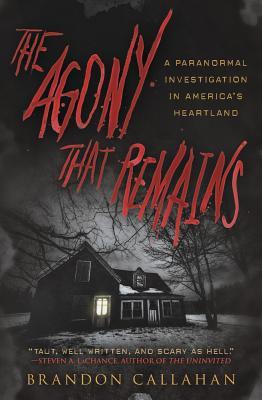 Tite: The Agony That Remains
Author: Brandon Callahan
Genre: Nonfiction, True Haunting

Rating: 1 star
Purchase: Amazon

In the northeast corner of Oklahoma, where the Trail of Tears ends and where one of the world's largest clusters of ley lines intersect, there's a place of extreme paranormal activity that has received little attention from the outside world. Join Brandon Callahan and his crew as they investigate the horrifying legacy of a bloody and brutal past, where generations of families have been terrorized by ghosts, demons, UFOs, Sasquatch, and countless other paranormal manifestations.

Partnering with a family that's been driven from their land, Brandon and his team discover energies that have no fear. As dark forces take hold of the investigators' lives, Brandon must attempt to salvage what's left of his team's—and his own—sanity.
Review: One of the most over-the-top, exaggerated, implausible paranormal cases I've ever read about. Sure, give me a ghost. Give me a demon. But don't give me ghosts, demons, aliens, and even death itself dropping by for a visit. It's like the author's imagination just went completely wild, and there's no reason at all why I would believe the author's claims in this book. It's just not realistic, and too over the top. Also, the writing is bland, and it's too obvious the majority of this book is fiction.
A Strange Little Place
Title: A Strange Little Place
Author: Brennan Storr
Genre: Nonfiction, True Haunting
Rating: 4 stars
Purchase: Amazon
Revelstoke: Where the worlds of the living, dead, and extraordinary collide

Embark on a fascinating journey into Revelstoke, Canada, a world-renowned ski destination with a well-kept secret: it has a long and active paranormal history just as breathtaking as its mountain views. Packed with stories of hauntings, UFOs, Sasquatch, missing time, and much more, A Strange Little Place takes you into a small town full of thrilling secrets and bizarre encounters.

Chronicling over seventy years of unusual occurrences in his hometown, Brennan Storr provides exciting, first-hand accounts of unexplainable phenomena. Discover the sinister mysteries of Rogers Pass, the strange craft and spectral music of the Arrow Lakes, and generations of hauntings in the infamous Holten House. As a magnet for the supernatural, Revelstoke invites you to experience things you never thought possible.
Review: I want to visit Revelstoke. Right now, please. While UFO's usually aren't my thing, the author had a great way of describing what was happening, along with witness testimony and background info. I also loved the accounts of paranormal happenings. It's obvious the author's research took up a lot of time, but it makes the book all the better for it.
The Haunted Pub
Title: The Haunted Pub
Author: Melanie Tushmore
Genre: Paranormal, Ghosts, Romance
Rating: 4 stars
Purchase: Amazon
When young cad Finlay Saunders spurns the wrong lover, he is murdered, his soul now tied to the place where his life ended. Though the building changes over the years, Finlay's haunting of the living becomes so bad, that a priest is called in, trapping him in the wall of his 'death room'.

Ninety-three years later, Finlay's room is unwittingly reopened, and given to a twenty year old boy suffering from depression. His negative energy feeds Finlay's soul, and as soon as the first crackle of blaring rock music fills the room, his ghost is free once again to wreak havoc upon the living.
Review: An intriguing ghost story and gay romance mixed in one. Finlay was an interesting ghost, and his background story made me compelled to understand him better. All characters were realistic, and the writing was very gripping.