Time for some mini-reviews! What are mini-reviews, you ask? As the title suggests, these are short reviews, consisting of one paragraph tops, about a book. It's a way to catch up on the books I've read a while ago, but never got around to reviewing.
Betrayed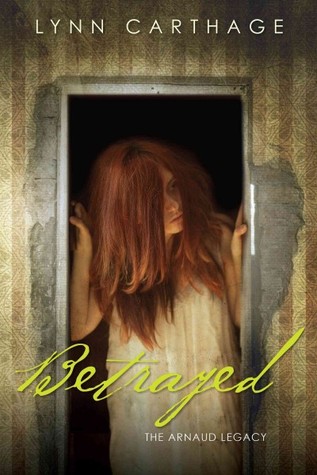 Tite: Betrayed
Author: Lynn Carthage
Genre:  Young Adult, Paranormal

Rating: 4 stars
Purchase: Amazon

When Phoebe Irving moved from San Francisco to my English country village, we discovered how much we have in common. We also realized that her family's home, the Arnaud Manor, has a twisted history that goes back centuries. Though the bloodthirsty Madame Arnaud is finally gone, a trip to the palace of Versailles in France proves that trouble still haunts us. With our friend Eleanor's help, we're trying to figure out the Arnaud legacy and our role in it . . . and whether the future holds the chance for Phoebe and me to make a real connection.

Boy meets girl. Obstacles arise. Love conquers all. You know the routine. But sometimes those you trust the most wind up betraying you. . . .
Review: After reviewing the first book in this series, I wanted to read the second book. I wasn't dissapointed. This was a creepy ghost mystery, along with time travel, excellent settings (like Versailles!) and great characters. The author did a good job on the French history.
Beware That Girl
Title: Beware The Girl
Author: Teresa Toten
Genre: Young Adult, Thriller, Mystery
Rating: 2 stars
Purchase: Amazon
For fans of We Were Liars, The Girl on the Train, and Gone Girl, this powerful psychological thriller with multiple mysteries is set against the backdrop of the megawealthy elite of New York City. Toten delves into the mesmerizing yet dysfunctional world of those who manipulate but seem ever so charming. With its gripping pace and Hitchcockian twists, Beware That Girl will keep readers guessing until the very last line.

The Haves. The Have-Nots. Kate O'Brian appears to be a Have-Not. Her whole life has been a series of setbacks she's had to snake her way out of—some more sinister than others. But she's determined to change that. She's book smart. She's street-smart. Oh, and she's also a masterful liar.

As the scholarship student at the Waverly School in NYC, Kate has her work cut out for her: her plan is to climb the social ladder and land a spot at Yale. She's already found her "people" among the senior class "it" girls—specifically in the cosseted, mega-wealthy yet deeply damaged Olivia Sumner. As for Olivia, she considers Kate the best friend she's always needed, the sister she never had.

When the handsome and whip-smart Mark Redkin joins the Waverly administration, he immediately charms his way into the faculty's and students' lives—becoming especially close to Olivia, a fact she's intent on keeping to herself. It becomes increasingly obvious that Redkin poses a threat to Kate, too, in a way she can't reveal—and can't afford to ignore. How close can Kate and Olivia get to Mark without having to share their dark pasts?
Review: Gossip Girl, if slightly darker. Private school girls, designer clothing, but also cringe-worthy dialogue and whiny monologues. Most of the characters are stereotypes come to life, and the "twist" and the end was actually very predictable.
The Haunted Stepsister
Title: The Haunted Stepsister
Author: Medeia Sharif
Genre: Horror, Middle Grade
Rating: 3 stars
Purchase: Amazon
Sixth grade isn't easy for Jesenya Moradi, especially since her father's recent remarriage and tension with her new stepsister, Kammy. After an incident at school that nearly destroyed Kammy's life, Jess has been desperate to get on Kammy's good side. But a fateful trip to an allegedly haunted bathroom changes both girls' lives forever.

The rumors about the bathroom are true, and now Jess is convinced a demon's possessing Kammy. Eerie things happen whenever she's around – flying objects, flickering lights, not to mention the fact that something, or someone, is making people into its puppets.

Worse, the demon seems fixated on making Jess confess her part in ruining Kammy's reputation. Sticking to her Muslim faith, Jess enlists the help of an imam to exorcise the demon from Kammy. But can they get rid of the demon before it destroys her new family?
Review: An okay story. The writing style was clumsy at best, and the characters weren't very likeable – they were rather bland, and didn't always act in character either. I did like the story, and the addition of a blended family. It wasn't that thrilling, but I did enjoy it.