Time for some mini-reviews! What are mini-reviews, you ask? As the title suggests, these are short reviews, consisting of one paragraph tops, about a book. It's a way to catch up on the books I've read a while ago, but never got around to reviewing.
Supernatural Serial Killers
Tite: Supernatural Serial Killers
Author: Samantha Lyon, Daphne Tan
Genre: Nonfiction, True Crime

Rating: 4 stars
Purchase: Amazon
Albert Fish held the genuine belief that the murders he committed were upon instruction from God. Peter Stumpp, who started practising the "wicked arts from twelve years of age", was convinced he was a werewolf. There are many more murderous individuals like them. Supernatural Serial Killers explores the association between serial killers and the supernatural. The crimes committed by these men and women usually involved sexual deviance, cannibalism and violence toward children. In sixteenth century Europe, the problem became so significant that 'Werewolf Witch Trials' were conducted – many have no idea that it was possible to be tried and convicted for the crime of being a Werewolf, but Lycanthropy was a serious and major social concern in the 1500s. In this book, approximately twenty supernatural serial killers are discussed, including their background, crimes, trials and defences.
Review: I really liked this book. As a firm believers in the supernatural, and a fan of true crime, I knew I had to read this one. And it was interesting, even for people who don't believe in the supernatural at all. A lot of serial killers (in any case, at least the sixteen cases presented here) turned to the supernatural to explain their crimes, or cover them up. Some claimed to be vampires, others acted on behalf of the devil, or even on behalf of God. It's an interesting study, and as a criminology student, I enjoyed it all the more.
In The Company of Evil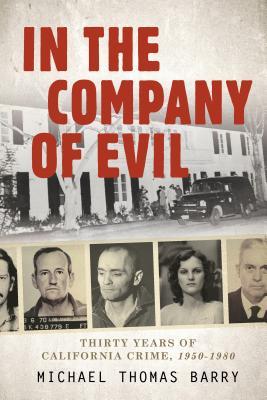 Title: In The Company of Evil
Author: Michael Thomas Barry
Genre: True Crime, Nonfiction
Rating: 3,5 stars
Purchase: Amazon
California's picturesque shores have always been a magnet for outcasts and criminals. Read about 64 of the most horrifying crimes ever committed in The Golden State, from the early 1950s into the 1980s. These accounts tell of mans inhumanity toward his fellow man and provide an inside look at infamous serial killers, assassins, sadistic rapists, bank robbers, kidnappers, Satan worshippers, and a plethora of other notorious criminals. Revisit The Sex Club Slaying, The Chowchilla School Bus Kidnapping, and the Real House on Haunted Hill. Be glad you're not on the helpful list of "The Lonely Hearts Killer" or "Souls for Satan." Written in an accessible, chronological sequence and enhanced by over 60 photographs, each entry provides an "introductory" overview of the crime, the parties involved, evidence gathered, and leading theories about solutions. This reference is indispensable for the first step study of modern crime in California."
Review: A recounting of some of the infamous, and less well known murders haunting California in the last thirty years. Some of the cases were intriguing, but the information was short and not as extensive as I had hoped. It did lead me to find out more about the cases that intrigued me the most, and it's a fairly decent guide. I would've preferred more details on the crimes, and less history of California, though.

The Writing Dead
Title: The Writing Dead
Author: Thomas Fahy
Genre: Nonfiction, Horror
Rating: 4 stars
Purchase: Amazon
Conversations with the creators, executive producers, and writers of today's top horror shows

The Writing Dead features interviews with the writers of today's most frightening and fascinating shows. They include some of television's biggest names—Carlton Cuse (Lost and Bates Motel), Bryan Fuller (Hannibal, Dead Like Me, Wonderfalls, Pushing Daisies), David Greenwalt (Angel and Grimm), Gale Anne Hurd (The Walking Dead, The Terminator series, Aliens, and The Abyss), Jane Espenson (Buffy the Vampire Slayer and Battlestar Galactica), Brian McGreevy (Hemlock Grove), Alexander Woo (True Blood), James Wong (The X-Files, Millennium, American Horror Story, and Final Destination), Frank Spotnitz (The X-Files and Millennium), Richard Hatem (Supernatural, The Dead Zone, and The Mothman Prophecies), Scott Buck (Dexter), Anna Fricke (Being Human), and Jim Dunn (Haven).

The Writing Dead features thought-provoking, never-before-published interviews with these top writers and gives the creators an opportunity to delve more deeply into television horror than anything found online. In addition to revealing behind-the-scene glimpses, these writers discuss favorite characters and story lines and talk about what they find most frightening. They offer insights into the writing process reflecting on the scary works that influenced their careers. And they reveal their own personal fascinations with the genre.

The thirteen interviews in The Writing Dead also mirror the changing landscape of horror on TV—from the shows produced by major networks and cable channels to shows made exclusively for online streaming services such as Netflix and Amazon Studios. The Writing Dead will appeal to numerous fans of these shows, to horror fans, to aspiring writers and filmmakers, and to anyone who wants to learn more about why we like being scared.

Thomas Fahy, New York, New York, is associate professor of English and director of the American Studies Program at Long Island University, Post. He is the author of numerous books, including the young adult horror novels Sleepless and The Unspoken, and editor of The Philosophy of Horror and Alan Ball: Conversations (University Press of Mississippi).
Review: Some excellent insights into writnig horror, based on thirteen interviews from some of the best horror writers out there. Since I know most of the TV series the writers worked on, I was very intrigued to read more about their thoughts and insights. An enjoyable, engaging book that fans of those TV shows will no doubt love.