Time for some mini-reviews! What are mini-reviews, you ask? As the title suggests, these are short reviews, consisting of one paragraph tops, about a book. It's a way to catch up on the books I've read a while ago, but never got around to reviewing.
Raven's Cove
Title: Raven's Cove
Author: Mary Ann Poll
Genre: Fantasy, Supernatural, Mystery
Rating: 2,5 stars
Purchase: Amazon
Welcome to Ravens Cove, Alaska, a tiny town nestled in a small hollow on the majestic Cook Inlet. A town familiar with storytelling-after all, Alaska abounds in rich legends. Unlike other tales, however, the account of Ravens Cove is not just based in fact. It is fact. Meet Josiah Williams, the peculiar stranger whose warning to lifetime residents Kat Tovslosky and her cousin, Sheriff Bart Andersen, raises more questions than answers; a man whose dark past and knowledge of the murders make him a suspect more than an ally. Join Kat and Bart as an unlikely troop forms (including a very unwelcome FBI agent) to discover the identity of a killer. The unearthing of which will throw the reluctant warriors into a battle for their very lives and the lives of all who call Ravens Cove home.
Review: Raven's Cove wasn't the intriguing blend of fantasy and supernatural mystery that I'd hoped. It wasn't nearly as creepy as I thought, there were a lot of Christian themes, and it actually read more like a cozy mystery. Not too bad, but it definitely lacked suspense and creepiness. The villain isn't defined well enough, and is rather bland, just your typical, standard bad demon that is inherently bland.
Frozen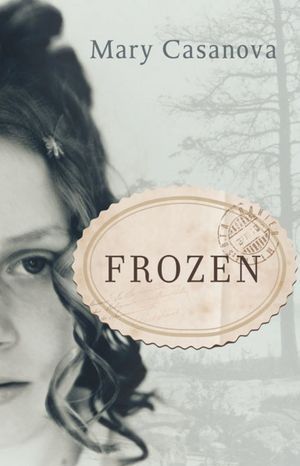 Title: Frozen
Author: Mary Casanova
Genre: Young Adult, Historical Fiction
Rating:  4 stars
Purchase: Amazon
Sixteen-year-old Sadie Rose hasn't said a word in eleven years—ever since the day she was found lying in a snowbank during a howling storm. Like her voice, her memories of her mother and what happened that night were frozen.

Set during the roaring 1920s in the beautiful, wild area on Rainy Lake where Minnesota meets Canada, Frozen tells the remarkable story of Sadie Rose, whose mother died under strange circumstances the same night that Sadie Rose was found, unable to speak, in a snowbank. Sadie Rose doesn't know her last name and has only fleeting memories of her mother—and the conflicting knowledge that her mother had worked in a brothel. Taken in as a foster child by a corrupt senator, Sadie Rose spends every summer along the shores of Rainy Lake, where her silence is both a prison and a sanctuary.

One day, Sadie Rose stumbles on a half dozen faded, scandalous photographs—pictures, she realizes, of her mother. They release a flood of puzzling memories, and these wisps of the past send her at last into the heart of her own life's great mystery: who was her mother, and how did she die? Why did her mother work in a brothel—did she have a choice? What really happened that night when a five-year-old girl was found shivering in a snowbank, her voice and identity abruptly shattered?

Sadie Rose's search for her personal truth is laid against a swirling historical drama—a time of prohibition and women winning the right to vote, political corruption, and a fevered fight over the area's wilderness between a charismatic, unyielding, powerful industrialist and a quiet man battling to save the wide, wild forests and waters of northernmost Minnesota. Frozen is a suspenseful, moving testimonial to the haves and the have-nots, to the power of family and memory, and to the extraordinary strength of a young woman who has lost her voice in nearly every way—but is utterly determined to find it again.
Review: A mix of coming-of-age, mystery and historical fiction. The story is haunting, lyrical, and the writing was great. Sadie is a lovely main character, and the setting, the roaring 1920s is amazing. She's curious, intelligent, and quite charming – she matches well with the 1920s setting. The slow revelation of what's going on was great, but the ending was a little too fast.
Pale
Title: Pale
Author: Chris Wooding
Genre: Young Adult, Paranormal, Dystopian
Rating: 3 stars
Purchase: Amazon
The Lazarus Serum can bring you back from the dead – but when you come back you've changed – you're a Pale, an outcast. It's the last thing Jed wants, but an accident changes everything and Jed's forced to discover the true cost of living forever.
Review: This was a novella, so a quick read. The premise was intriguing, and I liked the whole plot about the Lazarus Serum. Jed, the main character, goes through some real changes, and has to make tough moral decisions. The book moves fast, sometimes too fast, skipping over the consequences of some of Jed's decisions. It would've worked better if the plot had been expanded upon more, and turned into a full-length novel.