Time for some mini-reviews! What are mini-reviews, you ask? As the title suggests, these are short reviews, consisting of one paragraph tops, about a book. It's a way to catch up on the books I've read a while ago, but never got around to reviewing.
The White Oak
Title: The White Oak
Author: Kim White
Genre: Young Adult, Paranormal, Mythology
Rating: 3 stars
Purchase: Amazon
In The White Oak, the first book in the Imperfect Darkness series, Cora Alexander is pulled through a sinkhole and enters the underworld still alive. Her living presence threatens the tyrannical rule of Minos and the Infernal Judges who have hijacked the afterlife and rebuilt it, trapping human souls in a mechanical, computer-controlled city that lies at the core of the earth. To survive, Cora must rely on her untrustworthy guide, Minotaur, an artificial intelligence. She is helped by a mysterious voice, and by Sybil, underworld librarian and author of each person's book of life. When Cora's own book is destroyed, Sybil gives her a golden pen and sends her into the City to begin writing her own destiny. Along the way, she reunites with the ghost of her dead brother, Lucas, a genius programmer who alone is capable of finding the chink in Minos armor. This fast-paced adventure begins, and ends, in the middle of the action; introducing the characters, themes, and mysteries that find their resolution later in the series.
Review: The story was great, but the writing could've been better. I was conflicted about Cora Alexander, about whether or not I liked her. Her emotions could've been a tad better explained, and we only get a one-sided narrative. The pacing lagged too. World-building was great though.
Hurt
Title: Hurt
Author: Travis Thrasher
Genre: Young Adult, Mystery, Christian, Horror
Rating: 4 stars
Purchase: Amazon
His Rebellion Will Soon Turn to Hope When Chris Buckley first encountered the mysteries of creepy Solitary, North Carolina, he had little idea how far he would fall into the town's shadows. After losing the love of his life, Chris tried to do things his way. He hunted answers. Then he gave up trying to find them. But now Chris comes back to Solitary knowing there's a purpose for his being there. As he watches his place in a twisted and evil bloodline become clear, Chris waits for the last battle—and wonders who will be left when he finally makes his stand. The fourth and final book in the Solitary Tales shines light into deep darkness as Chris's journey to Solitary comes to a dramatic close.
Review: I had no idea this was the fourth book in a series, but I enjoyed the book all the same. It's a Christian-themed book though, but I didn't mind. There's a mystery, solid writing, and horror. I felt easily connected to main character Chris, and the town of Solitary was almost like a character on its own. Definitely recommended to horror fans.
 Pantomime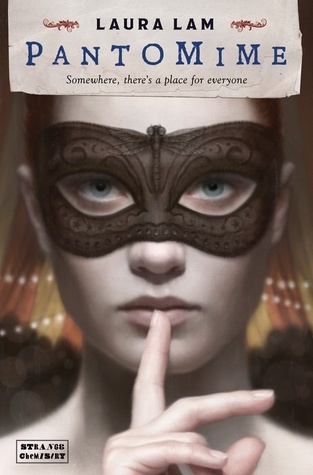 Title: Pantomime
Author: Laura Lam
Genre: Young Adult, Paranormal, Fantasy
Rating: 5 stars
Purchase: Amazon
R. H. Ragona's Circus of Magic is the greatest circus of Ellada. Nestled among the glowing blue Penglass—remnants of a mysterious civilization long gone—are wonders beyond the wildest imagination. It's a place where anything seems possible, where if you close your eyes you can believe that the magic and knowledge of the vanished Chimaera is still there. It's a place where anyone can hide.

Iphigenia Laurus, or Gene, the daughter of a noble family, is uncomfortable in corsets and crinoline, and prefers climbing trees to debutante balls. Micah Grey, a runaway living on the streets, joins the circus as an aerialist's apprentice and soon becomes the circus's rising star.

But Gene and Micah have balancing acts of their own to perform, and a secret in their blood that could unlock the mysteries of Ellada.
Review: This book was absolutely brilliant. It's so original and refreshing! The characters are great, the writing is fantastic, and the plot twists are totally unexpected. Amazing!