Time for some mini-reviews! What are mini-reviews, you ask? As the title suggests, these are short reviews, consisting of one paragraph tops, about a book. It's a way to catch up on the books I've read a while ago, but never got around to reviewing.
Innocent Darkness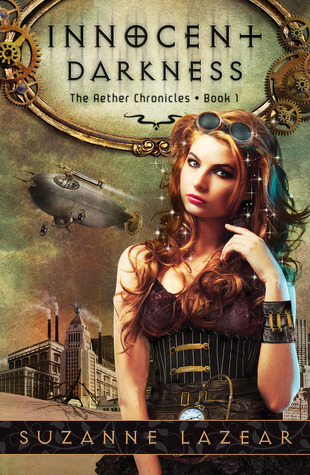 Title: Innocent Darkness (The Aether Chronicles #1)
Author: Suzanne Lazear
Genre: Young Adult, Fantasy, Paranormal
Rating: 4 stars
Purchase: Amazon
Wish. Love. Desire. Live.

Sixteen-year-old Noli Braddock's hoyden ways land her in an abusive reform school far from home. On mid-summer's eve she wishes to be anyplace but that dreadful school. A mysterious man from the Realm of Faerie rescues her and brings her to the Otherworld, only to reveal that she must be sacrificed, otherwise, the entire Otherworld civilization will perish.
Review: This book starts out amazing. The middle part is a little less kick-ass awesome, but it picks up again toward the end. Faeries are awesome, and I loved reading about the Otherworld civilization. Great worldbuilding and writing too.
Enchanted Ever After
Title: Enchanted Ever After
Author: Robin D. Owens
Genre: Fantasy, Romance, Paranormal
Rating: 3,5 stars
Purchase: Amazon
Magic was just around the corner….

Kiri Palger knew the difference between reality-new house, hard work and not too many friends-and fantasy-the fun she had playing online games. So when the chance to work for the best gaming company in the world came up, giving her a chance to merge business with pleasure, how could she not apply?

Suddenly she has more friends, interesting neighbors and an intriguing love interest. But when the game begins to awaken something inside her, Kiri is shocked by the talents she never knew she had… and an evil she'd never imagined.

Her nice, safe life is imploding around her-and if she takes up the mantle of her powers, it will never be the same again….
Review: I had no idea this was the third book in a series. However, even though not reading book one and two, I wasn't completely lost, and I got the hang of the story almost right away. This book is filled with original elements, and a great plot. I enjoyed the characters, but sometimes the plot got away from me, and some parts seem to go nowhere. A decent read, but could've been better.
Sister Assassin
Title: Sister Assassin
Author: Kiersten White
Genre: Young Adult, Paranormal, Dystopia
Rating: 5 stars
Purchase: Amazon
She never chose her deadly gift but now she's forced to use it. How far would you go to protect the only family you have left?

Annie is beset by fleeting strange visions and a guilty conscience. Blind and orphaned, she struggles to care for her feisty younger sister Fia, but things look up when both sisters are offered a place at Kessler School for Exceptional Girls.

Born with flawless intuition, Fia immediately knows that something's wrong, but bites her tongue… until it's too late. For Fia is the perfect weapon to carry out criminal plans and there are those at Kessler who will do anything to ensure her co-operation.

With Annie trapped in Kessler's sinister clutches, instincts keep Fia from killing an innocent guy and everything unravels. Is manipulative James the key to the sisters' freedom or an even darker prison? And how can Fia atone for the blood on her hands
Review: What an amazing read! Sister Assassin is amazing. It's an original story about two sisters, one is blind but has visions of the future, and the other has flawless instinct. This is a fast-paced, great read. The ending shocked me to the core. Awesome read!