Time for some mini-reviews! What are mini-reviews, you ask? As the title suggests, these are short reviews, consisting of one paragraph tops, about a book. It's a way to catch up on the books I've read a while ago, but never got around to reviewing.
White Witch
Title: White Witch (Coven #1)
Author: Trish milburn
Genre: Young Adult, Paranormal, Witches
Rating: 2 stars
Purchase: Amazon
Fresh, fun, and dangerous! I can't wait for the next one!" -Sherrilyn Kenyon #1 NYT Bestselling Author of the Dark-Hunter Series
Witchcraft Is Her Family's Business.
No One Quits The Family And Lives To Tell About It.
"Jax" Pherson has power, enough power to know her future will end in service to the dark coven her father controls. Unless she can stay hidden in a small community in the mountains of North Carolina. She must find a way to live without magic and deny the darkness she feels welling up inside her-the same dark power that fuels the covens around the world.
All she wants is a normal life. A boyfriend. Friends. Some place to belong, but all too soon Jax's barely begun new life hangs in the balance when she discovers that the boy she's attracted to is sworn to kill her kind. He's a hunter with good reason to kill everything that goes bump in the night.
Even the most fleeting use of her power is tantamount to signing her death warrant and will bring both hunter and coven down on her. But can she walk away when her friends are threatened by an old evil? Something created by the magic of witches? Jax's only hope of survival is to convince the boy she loves to forget everything he's ever been taught and help her find a way to fight the covens. To believe there is some good in her.
Review: I liked the whole witchcraft angle of the book – I'm a fan of witches, and the plot was entertaining. The insta-love bothered me though, as well as the Mary Sue qualities of the main character. Jax is pretty much perfect, and that makes her pretty boring.
Monstrous Beauty
Title: Monstrous Beauty
Author: Elizabeth Fama
Genre: Young Adult, Paranormal, Fantasy, Mermaids
Rating: 4 stars
Purchase: Amazon
Fierce, seductive mermaid Syrenka falls in love with Ezra, a young naturalist. When she abandons her life underwater for a chance at happiness on land, she is unaware that this decision comes with horrific and deadly consequences.

Almost one hundred forty years later, seventeen-year-old Hester meets a mysterious stranger named Ezra and feels overwhelmingly, inexplicably drawn to him. For generations, love has resulted in death for the women in her family. Is it an undiagnosed genetic defect . . . or a curse? With Ezra's help, Hester investigates her family's strange, sad history. The answers she seeks are waiting in the graveyard, the crypt, and at the bottom of the ocean—but powerful forces will do anything to keep her from uncovering her connection to Syrenka and to the tragedy of so long ago.
Review: I loved this book. Monstrous Beauty combines two paranormal creatures: mermaids and ghosts. While it seems a surprising combination, it actually works. The book travels between two timelines, each one equally convincing. Solid writing, amazing characters.
Pretty Crooked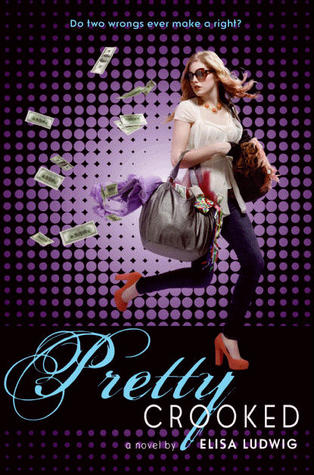 Title: Pretty Crooked
Author: Elisa Ludwig
Genre: Young Adult, Contemporary, Romance
Rating: 3 stars
Purchase: Amazon
Willa's secret plan seems all too simple: take from the rich kids at Valley Prep and give to the poor ones.

Yet Willa's turn as Robin Hood at her ultra-exclusive high school is anything but. Bilking her "friends"-known to everyone as the Glitterati-without them suspecting a thing, is far from easy. Learning how to pick pockets and break into lockers is as difficult as she'd thought it'd be. Delivering care packages to the scholarship girls, who are ostracized just for being from the "wrong" side of town, is way more fun than she'd expected.

The complication Willa didn't expect, though, is Aidan Murphy, Valley Prep's most notorious (and gorgeous) ace-degenerate. His mere existence is distracting Willa from what matters most to her-evening the social playing field between the have and have-nots. There's no time for crushes and flirting with boys, especially conceited and obnoxious trust-funders like Aidan.

But when the cops start investigating the string of burglaries at Valley Prep and the Glitterati begin to seek revenge, could he wind up being the person that Willa trusts most?
Review: A modern female Robin Hood, Pretty Crooked is a light read. However, the writing was a little flat, and none of the characters stood out for me. I did enjoy reading the book, but it wasn't very memorable.