Time for some mini-reviews! What are mini-reviews, you ask? As the title suggests, these are short reviews, consisting of one paragraph tops, about a book. It's a way to catch up on the books I've read a while ago, but never got around to reviewing.
The Night She Disappeared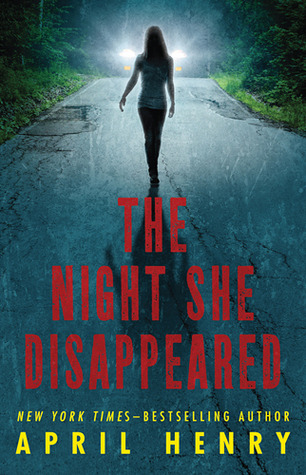 Title: The Night She Disappeared
Author: April Henry
Genre: Young Adult, Mystery, Contemporary
Rating: 4 stars
Purchase: Amazon
Gabie drives a Mini Cooper. She also works part time as a delivery girl at Pete's Pizza. One night, Kayla—another delivery girl—goes missing. To her horror, Gabie learns that the supposed kidnapper had asked if the girl in the Mini Cooper was working that night. Gabie can't move beyond the fact that Kayla's fate was really meant for her, and she becomes obsessed with finding Kayla. She teams up with Drew, who also works at Pete's. Together, they set out to prove that Kayla isn't dead—and to find her before she is.
Review: A dark, unsettling, sometimes creepy mystery that was exactly like I hoped it would be, and more. Usually only supernatural things happen to scare me, but here the idea that Gabie was actually the target, that someone was after her, was enough to scare me. The writing was great and the characters had plenty of personality, especially Gabie.
Enduring Light
Title: Enduring Light
Author: Carla Kelly
Genre: Historical Fiction, Romance
Rating: 3 stars
Purchase: Amazon
Julia Darling is finally able to marry her Mr. Otto for eternity. But it's a hard world for a rancher in turn-of-the-century Wyoming, especially a Mormon rancher. And when people start talking, it's up to Julia to prove she's her husband's equal in strength and endurance as she learns to let go of scars on the outside and inside.
Review: No backstory help in case you haven't read the first book (which I didn't). It took a while to connect to the characters, and to figure out what's going on. The romance was dull, there was no conflict, no passion. The love scenes were boring, but the historical fiction aspect was all right.
Drowning Instinct
Title: Drowning Instinct
Author: Ilsa J. Brick
Genre: Young Adult, Contemporary, Romance
Rating: 5 stars
Purchase: Amazon
There are stories where the girl gets her prince, and they live happily ever after. (This is not one of those stories.)

Jenna Lord's first sixteen years were not exactly a fairytale. Her father is a controlling psycho and her mother is a drunk. She used to count on her older brother—until he shipped off to Afghanistan. And then, of course, there was the time she almost died in a fire.

There are stories where the monster gets the girl, and we all shed tears for his innocent victim. (This is not one of those stories either.)

Mitch Anderson is many things: A dedicated teacher and coach. A caring husband. A man with a certain… magnetism.

And there are stories where it's hard to be sure who's a prince and who's a monster, who is a victim and who should live happily ever after. (These are the most interesting stories of all.)

Drowning Instinct is a novel of pain, deception, desperation, and love against the odds—and the rules.
Review: This book was amazing. It's an emotional rollercoaster, with a great cast of characters. Main character Jenna has gone through so much that she seems distant, cold, but at the same time as reader you can't help but connect with her. Jenna's hardships just about broke my heart. Don't start reading this one if you're looking for something light, but if you want a book that'll change your life, this is an excellent choice.