Time for some mini-reviews! What are mini-reviews, you ask? As the title suggests, these are short reviews, consisting of one paragraph tops, about a book. It's a way to catch up on the books I've read a while ago, but never got around to reviewing.
A Beautiful Dark
Title: A Beautiful Dark
Author: Jocelyn Davies
Genre: Young Adult, Paranormal, Fantasy, Angels
Rating: 4 stars
Purchase: Amazon
On the night of Skye's seventeenth birthday, she meets two enigmatic strangers. Complete opposites—like fire and ice—Asher is dark and wild, while Devin is fair and aloof. Their sudden appearance sends Skye's life into a tailspin. She has no idea what they want, or why they seem to follow her every move—only that their presence coincides with a flurry of strange events. Soon she begins to doubt not just the identity of the two boys, but also the truth about her own past.

In the dead of a bitingly cold Colorado winter, Skye finds herself coming to terms with the impossible secret that threatens to shatter her world. Torn between Asher, who she can't help falling for, and Devin, who she can't stay away from, the consequences of Skye's choice will reach further than the three of them could ever imagine.

A Beautiful Dark is the first book in a captivating trilogy by debut author Jocelyn Davies.
Review: One of the few love triangles I actually enjoyed  – Asher and Devin both have their moments, and it's not obvious from the start who Skye will choose (like in many YA novels). The world-building and setting are solid too, and Skye's relationship with her best friend, Cassie, is adorable. A solid YA paranormal.
Dark Eden
Title: Dark Eden
Author: Patrick Carman
Genre: Young Adult, Horror, Mystery, Science-Fiction
Rating: 3 stars
Purchase: Amazon
Fifteen-year-old Will Besting is sent by his doctor to Fort Eden, an institution meant to help patients suffering from crippling phobias. Once there, Will and six other teenagers take turns in mysterious fear chambers and confront their worst nightmares—with the help of the group facilitator, Rainsford, an enigmatic guide. When the patients emerge from the chamber, they feel emboldened by the previous night's experiences. But each person soon discovers strange, unexplained aches and pains. . . . What is really happening to the seven teens trapped in this dark Eden?

Patrick Carman's Dark Eden is a provocative exploration of fear, betrayal, memory, and— ultimately—immortality.
Review: Very slow build up, and not enough details are given, which gives the book a confusing vibe. The story of the teenagers was interesting though, and their personalities entertaining and three-dimensional. However, the pacing destroyed most of the suspense, making it a mediocre read.
The Girl of Fire and Thorns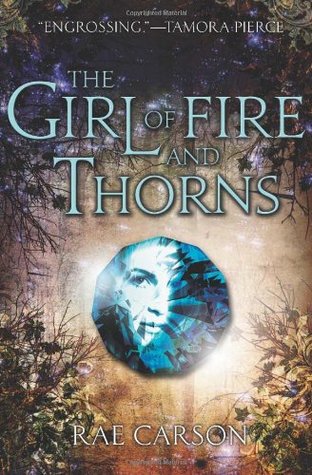 Title: The Girl of Fire and Thorns (Fire and Thorns #1)
Author: Rae Carson
Genre: Young Adult, Fantasy, Romance
Rating: 4 stars
Purchase: Amazon
Once a century, one person is chosen for greatness.
Elisa is the chosen one.

But she is also the younger of two princesses, the one who has never done anything remarkable. She can't see how she ever will.

Now, on her sixteenth birthday, she has become the secret wife of a handsome and worldly king—a king whose country is in turmoil. A king who needs the chosen one, not a failure of a princess.

And he's not the only one who seeks her. Savage enemies seething with dark magic are hunting her. A daring, determined revolutionary thinks she could be his people's savior. And he looks at her in a way that no man has ever looked at her before. Soon it is not just her life, but her very heart that is at stake.

Elisa could be everything to those who need her most. If the prophecy is fulfilled. If she finds the power deep within herself. If she doesn't die young.

Most of the chosen do.
Review: I loved this book. It screamed originality, the main character has some real issues but she manages to overcome them by the end of the book, there's genuine character development, and the world building is amazing. Loved it.