Waiting on Wednesday is a weekly meme hosted by Jill from Breaking The Spine that spotlights upcoming releases bloggers are eagerley anticipating. These can be debut novels, sequels, eBooks,…as long as they aren't released yet.
Click HERE to view all my 'Waiting on Wednesday' posts.
I'm waiting for…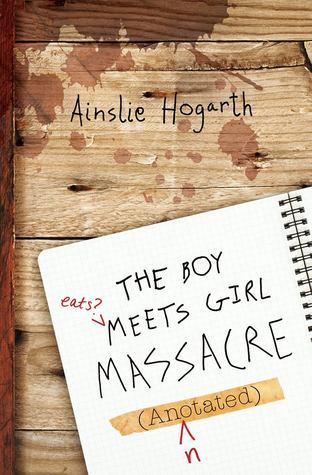 Title: The Boy Meets Girl Massacre (Annotated)
Author: Ainslie Hogarth
Release September 8, 2015
Noelle takes a summer nightshift job at the infamous Boy Meets Girl Inn, even though she's well aware of the grisly murders that happened there decades ago. That's why she has a diary—to write down everything she experiences in case things go bump in the night. But the inexplicable freezing drafts, the migrating rotten-flesh smell, and the misplaced personal items don't really scare her. Noelle has bigger problems: her father's ailing health, her friend Alfred's inappropriate crush, and the sore spot on the back of her head that keeps getting worse.

When a party commemorating the anniversary of the original killings ends in a ghoulish bloodbath, Noelle's diary becomes the key piece of evidence for investigators. But the cryptic and often incoherent entries suggest there is more to the bizarre case than can be rationally explained…
I loved Ainslie Hogarth's first book, "The Lonely", so I'm dying to read this one. What are you waiting for this week?