Time for some mini-reviews! What are mini-reviews, you ask? As the title suggests, these are short reviews, consisting of one paragraph tops, about a book. It's a way to catch up on the books I've read a while ago, but never got around to reviewing.
Tite: Castle of Sorrows
Author: Jonathan Jantz
Genre: Horror, Dark Fiction

Rating: 5 stars
Purchase: Amazon

" You can't escape the creature in the catacombs! "
A year ago composer Ben Shadeland traveled to the Sorrows, a reportedly haunted island off the California coast, to find inspiration for a horror movie music score. Instead, he found madness, murder, and an ancient evil. His family barely survived the nightmare, and Ben swore he d never return to the island or its accursed castle.
Now Ben s infant daughter has been kidnapped and Ben is convinced that the malevolent creature that lives in the catacombs beneath Castle Blackwood is responsible. Ben joins three federal agents, a sultry medium, and others in an attempt to save his daughter. But what awaits them is far worse than they ever imagined. The creature an ancient god named Gabriel has grown more powerful than ever. It has summoned unspeakable monsters to the island both human and supernatural. And Gabriel won t rest until he has his revenge. "
Jonathan Jantz is an excellent writer. Castle of Sorrows was the first book I read by him, but I didn't get around to reviewing it until now. The pacing in this book is immaculate, the characters are amazing, the plot has some unique storylines, and overall, it's just a very, very good book. It managed to creep me out in more ways than one, and the ending…Well, I won't spoil it, but it wasn't what I expected. The author also manages to make the reader care about all of the characters (or hate them, but you can't get away with feeling nothing). Despite not usually being a fan of "monster" books, this one handles the topic extremely well. Recommended to horror fans!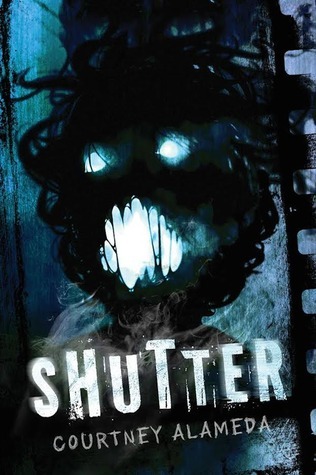 Tite: Shutter
Author: Courtney Alameda
Genre: Horror, Young Adult, Paranormal

Rating: 4 stars
Purchase: Amazon

Horror has a new name: introducing Courtney Alameda.
Micheline Helsing is a tetrachromat—a girl who sees the auras of the undead in a prismatic spectrum. As one of the last descendants of the Van Helsing lineage, she has trained since childhood to destroy monsters both corporeal and spiritual: the corporeal undead go down by the bullet, the spiritual undead by the lens. With an analog SLR camera as her best weapon, Micheline exorcises ghosts by capturing their spiritual energy on film. She's aided by her crew: Oliver, a techno-whiz and the boy who developed her camera's technology; Jude, who can predict death; and Ryder, the boy Micheline has known and loved forever.
When a routine ghost hunt goes awry, Micheline and the boys are infected with a curse known as a soulchain. As the ghostly chains spread through their bodies, Micheline learns that if she doesn't exorcise her entity in seven days or less, she and her friends will die. Now pursued as a renegade agent by her monster-hunting father, Leonard Helsing, she must track and destroy an entity more powerful than anything she's faced before . . . or die trying.
Lock, stock, and lens, she's in for one hell of a week.
You don't often get to read a YA horror book that manages to be so original as this one. Albeit having some technological mumbo-jumbo I had to wade through to understand the book, I really liked it. The prose is beautiful, the characters kick ass (how can you not if you're a descendant from Van Helsing?) and the way these guys track down ghosts and exorcise them is in one word: awesome. I'd definitely recommend this one to all fans of YA horror. On the downside though, the book could've done with some more wolrd building, and the characters weren't flawed enough. But don't let that hold you back from giving this one a shot.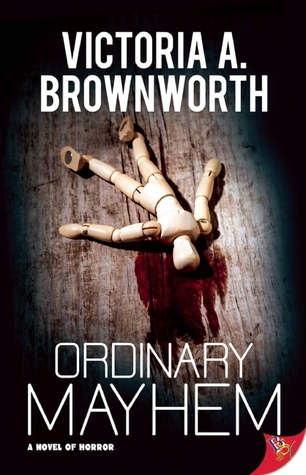 Tite: Ordinary Mayhem
Author: Victoria A. Brownworth
Genre: Horror, Psychological Horror

Rating: 5 stars
Purchase: Amazon

Faye Blakemore is a photojournalist for a major New York newspaper. Faye has been taking photos since she was a small child, taught by her photographer grandfather, after spending hours in the strange blood-red light of his darkroom. Now Faye specializes in what one reviewer calls, "blood-and-guts journalism." Her first book of photos is as celebrated as it is controversial—and as harrowing.
Faye convinces her editor to send her to Afghanistan and the Congo to report on the acid burnings, the machete attacks, and the women survivors. Yet that series of assignments—each darker and more dangerous than the next—brings Faye closer to her both her own demons and to the family secrets that still haunt her and threaten to destroy her and the woman she loves.
I have nothing against blood-and-guts journalism. Somebody has to do it. Somebody has to show us the bad side of this world. And despite it being horrifying, someone has to report on it. The protagonist of this book works as a report who writes about women survivors in wars, their traumas, the horrible things they had to survive. The book is certainly creepy, in that it deals with real issues some women had to go through. It's also horrifying and gruesome, but unfortunately, that's just the way this world is. The book is raw and gripping, though, and it doesn't mind being controversial and putting issues in the spotlight that should have never left it in the first place. It's not generally what I'd expect from a horror book, but it's disturbing all the same.