Time for some mini-reviews! What are mini-reviews, you ask? As the title suggests, these are short reviews, consisting of one paragraph tops, about a book. It's a way to catch up on the books I've read a while ago, but never got around to reviewing.
Oscar and the Amazing Gravity Repellent
Tite: Oscar and the Amazing Gravity Repellent
Author: Tina L. Peterson
Genre: Middle Grade, Science-Fiction

Rating: 4 stars
Purchase: Amazon

Oscar Schmidt is a klutz and gravity is his nemesis – it pulls him down, trips him up, and helps the neighborhood bullies make his life all-around awful. But when Oscar finds an abandoned train caboose one day after school, everything changes. Inside, he discovers a magical potion: Dr. Oopsie's Amazing Gravity Repellent. Along with his best friend, Asha, Oscar learns what happens when he defies the laws of nature. But when the caboose comes under attack from a group of bullies, Oscar's reaction puts his worst enemy in serious danger. Oscar must face the consequences of his actions, figure out right from wrong, and learn how to stand up for himself. A heartwarming mix of sweet humor and whimsical fantasy, young readers will immediately fall in love with Oscar's tale and easily relate to the real-life issues at the story's core.

For ages 8-10.

*A heartwarming mix of whimsical fantasy and real-life issues*Deals with bullying in a thoughtful and realistic way*Fun and sweet humor that young readers will love
Review: I'm a klutz, so I could easily relate to Oscar Schmidt – he's a klutz too. He's also being bullied, but that changes when he finds an abandoned train caboose one day after school. Filled with whimsical, fun elements, humor, and adventure, this is a great read for middle graders (and the occasional adult, haha).
The Accident Season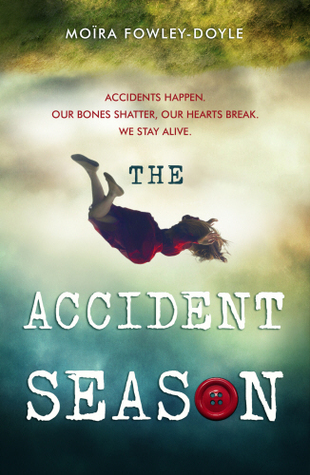 Title: The Accident Season
Author:Moira Fowley-Doyle
Genre: Young Adult, Paranormal
Rating: 4,5 stars
Purchase: Amazon
It's the accident season, the same time every year. Bones break, skin tears, bruises bloom.

The accident season has been part of seventeen-year-old Cara's life for as long as she can remember. Towards the end of October, foreshadowed by the deaths of many relatives before them, Cara's family becomes inexplicably accident-prone. They banish knives to locked drawers, cover sharp table edges with padding, switch off electrical items – but injuries follow wherever they go, and the accident season becomes an ever-growing obsession and fear.

But why are they so cursed? And how can they break free?
Review: I loved, loved, LOVED this book. Lyrical, haunting prose, amazing characters that all seem to hide something, a sizzling romance, and a creepy, foreboding sense. It had all the elements I love about YA paranormal wrapped into one book.
Mother of Demons
Title: Mother of Demons
Author: Maynard Sims
Genre: Horror
Rating: 3,5 stars
Purchase: Amazon
The hunt is on! Alice Logan has gone missing, and Harry Bailey and Department 18 have been called to help find her. The main suspect is Anton Markos, a satanic cult leader who has a predilection for young women like Alice. Members of Markos's cult start turning up dead—shredded by what seems to be a wild animal. Is there a madman within the cult? Or is it something far more horrible?Can Department 18 discover the impossible truth and end the spree of murder, insanity and carnage? Or will they become the prey?
Review: The story was all right, and had a few unexpected twists, but the final confrontation ended too easily. The characters were all right, but some were hard to connect to, or grasp why they did certain things. Top-notch writing, though, and definitely an entertaining book.