Time for some mini-reviews! What are mini-reviews, you ask? As the title suggests, these are short reviews, consisting of one paragraph tops, about a book. It's a way to catch up on the books I've read a while ago, but never got around to reviewing.
The Girl You Lost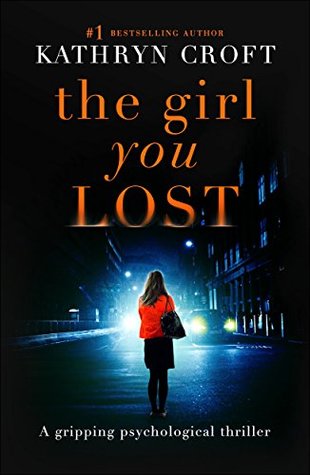 Tite: The Girl You Lost
Author: Kathryn Croft
Genre: Thriller, Mystery, Suspense

Rating: 3 stars
Purchase: Amazon

Eighteen years ago your baby daughter was snatched. Today, she came back. A sinister and darkly compelling psychological thriller from the No.1 bestselling author of The Girl With No Past. Eighteen years ago, Simone Porter's six-month-old daughter, Helena, was abducted. Simone and husband, Matt, have slowly rebuilt their shattered lives, but the pain at losing their child has never left them. Then a young woman, Grace, appears out of the blue and tells Simone she has information about her stolen baby. But just who is Grace – and can Simone trust her? When Grace herself disappears, Simone becomes embroiled in a desperate search for her baby and the woman who has vital clues about her whereabouts. Simone is inching closer to the truth but it'll take her into dangerous and disturbing territory. Simone lost her baby. Will she lose her life trying to find her?
Review: What would you do if your child, who went missing at only six months old, turned up on your doorstep? Simone and her husband Matt have to figure out if Grace, the woman who says she's their long-missing daughter, is in fact telling the truth. The writing was all right, but you have to suspend credibility a bit – no one calls the cops at the appropriate times, and the characters didn't always seem realistic.
Quiet Neighbors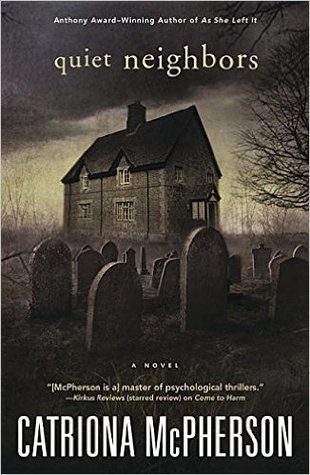 Title: Quiet Neighbors
Author: Catriona McPherson
Genre: Mystery, Suspense, Thriller
Rating: 2 stars
Purchase: Amazon
It's the oldest bookshop in a town full of bookshops; rambling and disordered, full of treasures if you look hard. Jude found one of the treasures when she visited last summer, the high point of a miserable vacation. Now, in the depths of winter, when she has to run away, Lowell's chaotic bookshop in that backwater of a town is the safe place she runs to.

Jude needs a bolt-hole; Lowell needs an assistant and, when an affordable rental is thrown in too, life begins to look up. The gravedigger's cottage isn't perfect for a woman alone but at least she has quiet neighbors.

Quiet, but not silent. The long dead and the books they left behind both have tales to tell and the dusty rooms of the bookshop are not the haven they seem to be. Lowell's past and Jude's present are a dangerous cocktail of secrets and lies and someone is coming to light the taper that could destroy everything.
Review: Would be an engaging novel, were it not for how the plot dragged, and the narrative was long and dull. It took forever before anything happened. The plot was extremely slow, the characters were flat, and there was not an ounce of suspense. When all was wrapped up, it was at least somewhat intriguing, so it certainly had potential. Had the sentences not been so weird, drawn out, and the author not gone to such lengths to just keep sounding poetic and lyrical, maybe I would've enjoyed it more.
A Cure for Madness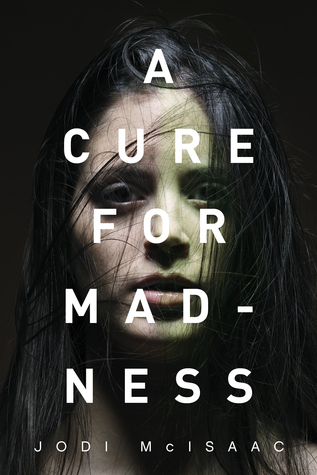 Title: A Cure for Madness
Author: Jodi McIsaac
Genre: Horror, Thriller
Rating: 4 stars
Purchase: Amazon
Clare Campbell has worked hard to create distance between herself and her troubled family. But when she receives news of her parents' murder, she's forced to return to the quiet town of Clarkeston, Maine, to arrange their funeral and take legal guardianship of her unpredictable and mentally ill brother, Wes.

While Clare struggles to come to grips with the death of her parents, a terrifying pathogen outbreak overtakes the town. She is all too familiar with the resulting symptoms, which resemble those of her brother's schizophrenia: hallucinations, paranoia, and bizarre, even violent, behavior. Before long, the government steps in—and one agent takes a special interest in Wes. Clare must make a horrifying decision: save her brother or save the world.
Review: A fast-paced thriller about a girl coming to terms with the death of her parents just when all hell breaks loose, and everyone in town seems to suffer from schizophrenia. Clare must make a horrible choice. Took me a while to warm up to Clare, but I enjoyed up enjoying this book, and liked her more once I got to know her better. Fast-paced and suspenseful.