Waiting on Wednesday is a weekly meme hosted by Jill from Breaking The Spine that spotlights upcoming releases bloggers are eagerley anticipating. These can be debut novels, sequels, eBooks,…as long as they aren't released yet.
Click HERE to view all my 'Waiting on Wednesday' posts.
I'm waiting for…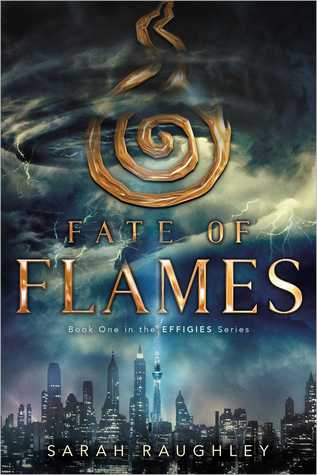 Title: Fate of Flames
Author: Sarah Raugley
Genre: Young Adult Fantasy
Four girls with the power to control the elements and save the world from a terrible evil must come together in the first epic novel in a brand-new series.

When Phantoms—massive beasts made from nightmares and darkness—suddenly appeared and began terrorizing the world, four girls, the Effigies, each gained a unique power to control one of the classical elements: earth, air, fire, and water. Since then, four girls across the world have continually fought against the Phantoms, fulfilling their cosmic duty. And when one Effigy dies, another girl gains her power as a replacement.

But now, with technologies in place to protect the world's major cities from Phantom attacks, the Effigies have stopped defending humanity and, instead, have become international celebrities, with their heroic feats ranked, televised, and talked about in online fandoms.

Until the day that New York City's protection against the Phantoms fails, a man seems to be able to control them by sheer force of will, and Maia, a high school student, unexpectedly becomes the Fire Effigy.

Now Maia has been thrown into battle with three girls who want nothing to do with one another. But with the first human villain that the girls have ever faced, and an army of Phantoms preparing for attack, there isn't much time for the Effigies to learn how to work together.

Can the girls take control of their destinies before the world is destroyed forever?
Add on Goodreads.
This book sounds amazing. Not to mention the cover is GORGEOUS. I really enjoyed "The Girl from The Well", so I'm looking forward to another book written by Rin Chupeco, especially one that looks as stunning as this book.