Time for some mini-reviews! What are mini-reviews, you ask? As the title suggests, these are short reviews, consisting of one paragraph tops, about a book. It's a way to catch up on the books I've read a while ago, but never got around to reviewing.
Missing Pieces
Tite: Missing Pieces
Author: Heather Gudenkauf
Genre: Mystery, Thriller

Rating: 3 stars
Purchase: Amazon

A woman uncovers earth-shattering secrets about her husband's family in this chilling page-turner from New York Times bestselling author Heather Gudenkauf

Sarah Quinlan's husband, Jack, has been haunted for decades by the untimely death of his mother when he was just a teenager, her body found in the cellar of their family farm, the circumstances a mystery. The case rocked the small farm town of Penny Gate, Iowa, where Jack was raised, and for years Jack avoided returning home. But when his beloved aunt Julia is in an accident, hospitalized in a coma, Jack and Sarah are forced to confront the past that they have long evaded.

Upon arriving in Penny Gate, Sarah and Jack are welcomed by the family Jack left behind all those years ago—barely a trace of the wounds that had once devastated them all. But as facts about Julia's accident begin to surface, Sarah realizes that nothing about the Quinlans is what it seems. Caught in a flurry of unanswered questions, Sarah dives deep into the puzzling rabbit hole of Jack's past. But the farther in she climbs, the harder it is for her to get out. And soon she is faced with a deadly truth she may not be prepared for.
Review: The plot was decent, but I didn't care that much about the characters. Not all of the characters were as developed as they could've been, the relationship between Sarah and Jack was weird, they didn't act like a married couple at all, and Sarah's behavior was often unrealistic. The ending was worth it, though, and it was a pleasant read nonetheless.
The Visitor (Gaveyard Queen #4)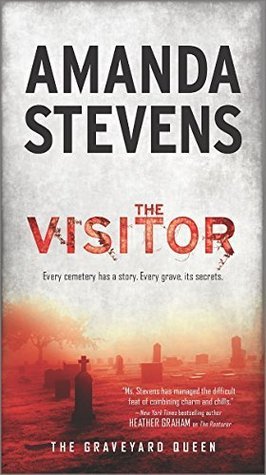 Title: The Visitor
Author: Amanda Stevens
Genre: Paranormal Mystery, Ghosts
Rating: 4 stars
Purchase: Amazon
Restoring lost and abandoned cemeteries is my profession, but I'm starting to believe that my true calling is deciphering the riddles of the dead. Legend has it that Kroll Cemetery is a puzzle no one has ever been able to solve. For over half a century, the answer has remained hidden within the strange headstone inscriptions and intricate engravings. Because uncovering the mystery of that tiny, remote graveyard may come at a terrible price.

Years after their mass death, Ezra Kroll's disciples lie unquiet, their tormented souls trapped within the walls of Kroll Cemetery, waiting to be released by someone strong and clever enough to solve the puzzle. For whatever reason, I'm being summoned to that graveyard by both the living and the dead. Every lead I follow, every clue I unravel brings me closer to an unlikely killer and to a destiny that will threaten my sanity and a future with my love, John Devlin.
Review: I absolutely adore the Graveyard Queen series, so I nearly jumped out of my skin when I saw the fourth installment on Netgalley, and I knew I had to read this. The author did an amazing job of describing Charleston, in particular the cemeteries Amelia worked on restoring. I also really enjoyed the riddles, and the romance between Amelia and John Devlin in this book.
The Unusual Possession of Alastair Stubb
Title: The Unusual Possession of Alastair Stubb
Author: David John Griffin
Genre: Horror, Fiction
Rating: 4 stars
Purchase: Amazon
The turn of the last century and Theodore Stubb's manor house resides in the quirky village of Muchmarsh. A renowned entomologist, he is often within the attic adding another exotic specimen to his extensive collection of insects. But Theodore is also a master hypnotist, holding the household in thrall to his every whim. Theodore's daughter-in-law Eleanor – returned from the sanatorium two months before – is a haunted figure, believing that her stillborn child Alastair lives and hides in the shadows. Then she falls pregnant again, but this time by the hypnotic coercion and wicked ravishment of Theodore. A dreadful act begets terrible secrets, and thirteen years later the boy Alastair Stubb begins to lose his identity – it is not long before mystery, intrigue and murder follow gleefully in his wake. The Unusual Possession of Alastair Stubb is a gothic terror of the highest order, delivering a dream-like and hallucinatory reading experience that promises to reveal secrets both disturbing and astonishing. Do you dare meet the Stubbs?
Review: A gripping gothic horror centered around the Stubb family, who reminded me of the Adams family. The writing is reminiscent of turn-of-the-century writing, and provides an atmospheric, eerie vibe to the book. The story was very intriguing and I loved the weirdness.