Time for some mini-reviews! What are mini-reviews, you ask? As the title suggests, these are short reviews, consisting of one paragraph tops, about a book. It's a way to catch up on the books I've read a while ago, but never got around to reviewing.
Someone Must Die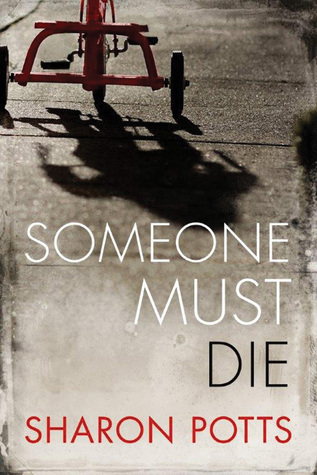 Tite: Someone Must Die
Author: Sharon Potts
Genre: Thriller, Mystery, Suspense

Rating: 4 stars
Purchase: Amazon

When her six-year-old nephew vanishes from a neighborhood carnival, Aubrey Lynd's safe, snow-globe world fractures; it shatters when the FBI's investigation raises questions about her own family that Aubrey can't answer.
Aubrey picks apart the inconsistencies to expose the first of many lies: a ransom note—concealed from the FBI—with a terrifying and impossible ultimatum. Aubrey doesn't know what to believe or whom to trust. The abduction is clearly personal—but why would someone play a high-stakes game with the life of a child? The more she presses for answers, the more Aubrey is convinced that her mother is hiding something.
Desperate to save her young nephew, Aubrey must face harsh truths and choose between loyalty to her family and doing the right thing. And she'd better hurry, because vengeance sets its own schedule, and time is running out.
Review: What a nailbiting pageturner. Aubrye Lynd's 6-year-old nephew goes missing while under the care of his grandmother. The grandmother receives a ransom note that she chooses not to share with the FBI, with a terrifying ultimatum. Aubrey doesn't know who to believe, or who to trust, and the key to solving the mystery of who is behind the abduction is buried in the past – her parents' past. A thrilling, suspenseful, well-written book.
Charnel House
Title: Charnel House
Author: Graham Masterton
Genre: Horror
Rating: 4 stars
Purchase: Amazon
Edgar Award Finalist: A demon is intent on devouring the world—and it's up to a small group of believers in San Francisco to stop it.
A desperate and terrified old man appears at the office of John Hyatt at the San Francisco Department of Sanitation with a chilling complaint. His house, Seymour Willis insists, is breathing. Hyatt suspects a rat infestation but the truth is worse. Much worse. An ancient demon out of darkest Native American folklore lives within the walls and floorboards of Willis's home—an all-powerful malevolent being determined to break free and wreak havoc on the City by the Bay.
Soon a tiny cadre of believers in the impossible—including Hyatt, Willis, and a Native American shaman—hold the fate of all humanity in their hands. The monster's hunger for blood and flesh is insatiable and it is determined to escape its prison and become whole. And once it does, the entire world will be its feeding ground.
A haunted house story like no other—a gory and terrifying tale of demonic possession—this award-winning supernatural thriller by the acclaimed author of The Manitou provides substantial chills on every page. A tale of unrelenting terror reminiscent of the works of H. P. Lovecraft, Graham Masterton's Charnel House will haunt your dreams long after you've turned the final page.
Review: John works at the sanitation department. He gets his fair share of strange clients, but what Seymour Willis tells him is the strangest thing he's ever heard: the man claims his house is breathing. John goes anyway, bringing a buddy along. The book was written in the seventies and it shows (based on the stereotypes mentioned, and the attitudes toward women, minorities, etc) but the plot and storyline translate well, even in today's era. Also, if you imagine it as a 70's flick, it works surprisingly well.
The Immortal Crown
Title: The Immortal Crown
Author: Kieth Merrill
Genre: Fantasy
Rating: 3 stars
Purchase: Amazon
A thousand years ago, the Navigator possessed thirteen stones touched by Oum'ilah, the God of gods. Over time, these power-ful stones of light were scattered and a prophecy arose declaring that a "child of no man" would gather them again, and he would be given immortality and reign forever as god and king of Kandelaar.

Now, in an age of chaos, the time has come for the prophecy to be fulfilled. Light and darkness have each chosen a champion to claim the legendary stones:

The sorceress of the cult of she-dragon has chosen Drakkor, a warrior and mercenary who travels with bandits and a corrupt stone of darkness.

The Oracle of Oum'ilah has placed his faith in Ashar, a young postulant who is unsure the stones of light even exist.

Meanwhile, miles away, a slave named Ereon Qhuin dreams of freedom. Abandoned at birth, his only possession is a strange stone that he believes is the key to his destiny and freedom.

A mercenary, a postulant, and a slave—which one is truly the child of prophecy? Who will wear the immortal crown?
Review: An okay read, but not as good as I had hoped. A lot of characters to keep track of, and I could barely keep them apart.